Let's face it, the joy of the holiday season can bring on a considerable amount of stress. 
This time of year, our days are often filled with office work, housework, homework, shopping, and major social engagements.  At the end of the day, we need a safe space to come home to – a place to unwind, relax and recharge.
Does that sound like your home?  If not, it soon can be! Consider the following tips to help ease the emotional load:
Utilize smart storage to keep stuff out of sight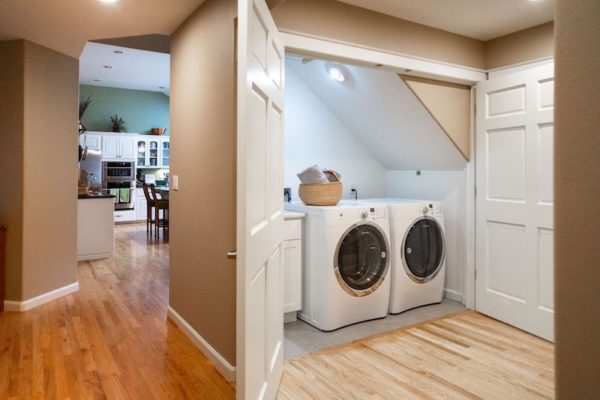 When we're experiencing periods of high stress, our minds can run wild with a toxic stream of all the things we must get done.  When our belongings are out in the open, it can trigger increased tension and the urge to immediately declutter and organize. This tension can lead to depression, anxiety, and a serious case of the bah humbugs. 
When you consider your next remodel, think about how you can use smart storage in your home to conceal the things you use often but don't necessarily want to see often.  For example, on a recent project, we utilized space under the stairway to conceal the washer and dryer.
Out of sight, out of mind!

Set up a staging area near your entry door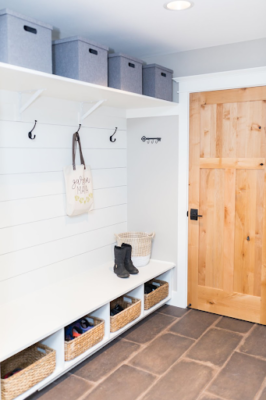 To help signal a shift telling your brain to literally leave stress at the door, create a space just inside your entryway to store your handbag, keys, unnecessary electronics, and uncomfortable heels. 
Make sure to keep a pair of comfy slippers and a warm sweater handy in this area to change into. Remember Mr. Rogers? He did this every episode!
If you have space in your home, consider adding a mudroom during your next remodel, especially if your family includes kids and pets.  Cubby holes for backpacks and durable tile for muddy paws are sure to significantly decrease tension in your home throughout the year.
Create your own inner sanctum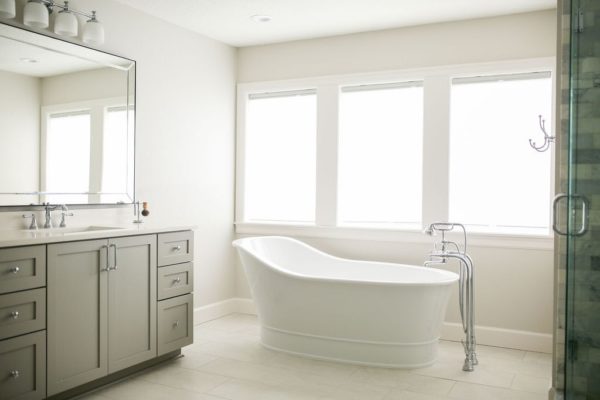 Creating space in your environment where all worries melt away is an absolute must — and this space can be different for everyone.  For many, this place is a luxurious shower with dual rain showerheads to wash away the worry. For others, it's the bedroom where soft bedding and low light creates a personal oasis.  Still for others, it can be a room specifically dedicated to yoga and meditation.
Wherever this space may be, give this area priority when considering your next home remodel, and let your contractor know your specific needs
Have you always dreamed of having a claw foot soaker tub?

Do you feel natural light and calming paint color will create a sense of peace in your new master bedroom?  

What's that little extra bit of luxury you've always wanted in your home but never had?
No matter how you choose to unwind, do so without guilt. 
You work hard, and your mind and body deserve the reprieve.  If your home remodel is still in the contemplation stage, start simply — diffuse essential oils throughout your home. Lavender, for example, is naturally calming and lifts spirits. You may also consider purchasing natural wood boxes to store items that seem to trigger anxiety. 
Is it time to remodel?
When you're ready to set the wheels in motion on home remodeling project, make sure to give us a call at (503) 671-9538. Our construction and design experts will help you create calm throughout your home, every step of the way.