BEFORE
Initially, Kirsten didn't have any complaints with her new home. Originally built in an 80's contemporary style, the house had been converted into a craftsmen a year before she and her family moved in. But while the rest of the house had been remodeled with care, the kitchen was built in haste. As a result, many of the details that make a kitchen inviting were overlooked. The room was long and narrow, with walls blocking it off from the rest of the house. Even a quick run to the kitchen made people feel disconnected from the rest of the interior.
While Kirsten loved to cook and entertain for her friends and family, she couldn't watch her children play in the living room while preparing dinner, or chat with guests while grabbing a second bottle of wine.
When Kirsten chose Cornerstone Builders as her Hillsboro kitchen remodel contractors, she was looking for a complete kitchen makeover. As we took our first tour through the space, we began to envision how we could remodel her kitchen into the centerpiece of her craftsman home. It was important for the space to be beautiful, but it also had to be functional and durable enough for an active family of five. She wanted to open her kitchen up to other parts of the house, to create a space where cooking, conversing and enjoying the company of others could happen simultaneously.
Here's what our Hillsboro kitchen remodeling contractors were able to accomplish in just 6 weeks of work.
AFTER
Listening to Kirsten's frustration with the confined kitchen space, we knew we'd have to knock down a few walls before we began rebuilding. We opened the kitchen up to the living room, and replaced the carpeting with site-finished, red oak hardwood floors.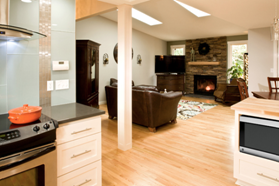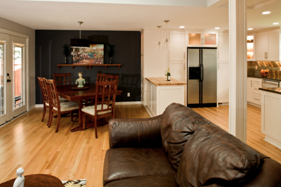 We decided that the best way to create the functional, durable beauty Kirsten wanted was with creative tiling work. On the right side of the room, we used light blue 12″ x 24" glass tiles with two vertical rows of stainless steel block tiles to create an accent wall around the stove.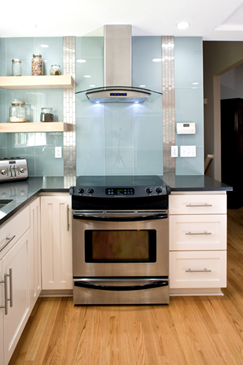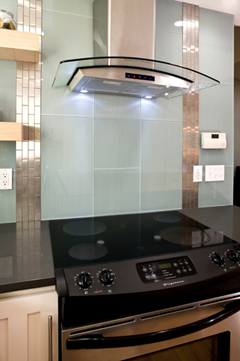 We used the same stainless steel block tiles along the back wall by the sink. On this wall we set the blocks horizontally with glass pencil inlay in various shades of green and light blue. Together the tiled walls have a complimentary aesthetic that radiates elegance and beauty.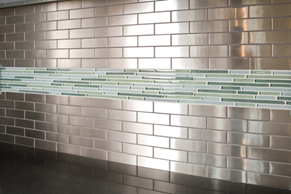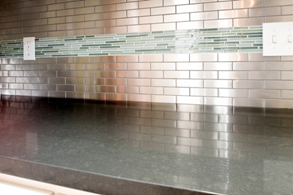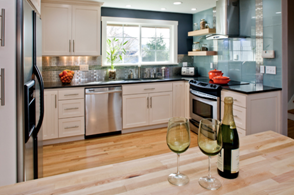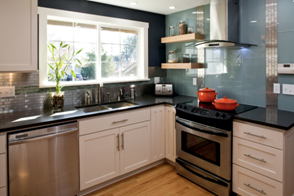 To create space for the family's dishes, groceries, and kitchen appliances, we lined the kitchen with off-white shaker-style cabinets made from maple plywood. We chose brushed steel cabinet handles to complement the stainless steel block tiling.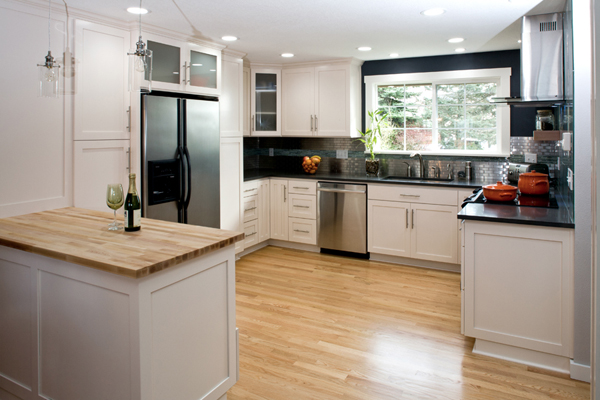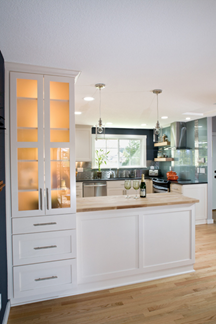 Using birch wood we created a functional cutting board countertop to help separate the kitchen from the rest of the house without walling it off. The extra space gives everyone in the family room to contribute. Now Kirsten's children can help whip together a batch of cookie dough with plenty of space.
As any kitchen remodeling contractor will tell you, there's no such thing as too much light. We wanted to light Kirsten's new kitchen in a way that amplified its openness. To ensure the space stayed bright and inviting after dark, we installed 10 recessed LED lights, 2 pendant lights and under-cabinet lighting.
With the health and wellness of Kirsten's family in mind, we replaced the original radon-emitting granite countertops with safer penal quartz and opted for a VOC-free wall paint.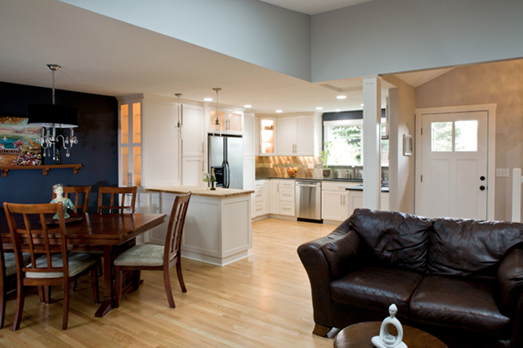 RESULTS
Several weeks after we completed our Hillsboro kitchen remodel, Kirsten called us with an update.
Having the additional counter and cabinet space is nice, and her new hardwood floors are much easier to clean than the original carpet. But she expected these things from a kitchen remodeling company. What she didn't expect was how much extra time it would allow her to spend with her family.
Because her new kitchen is open to the living and dining rooms, her family can be together even when they're in different areas of the house. From the kitchen, she can look out over the rest of the home where her children are doing homework, reading on the sofa, or even out playing in the back yard. In her cramped, isolated kitchen she would have missed little moments like these, but now she is able to witness them.
How can Cornerstone Builders help you build the home of your dreams? Contact us today about your building designs, remodeling and other contracting needs.