BEFORE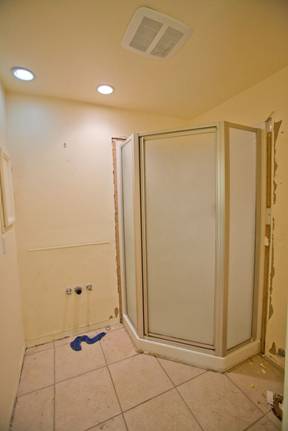 Joseph and Christa were ready to create their forever home in Hillsboro, OR. They liked their neighbors, their commute was short, and they had family living nearby. They couldn't think of a better place to raise their two children.
There was just one problem. If they wanted to stay, they needed to remodel their home to accommodate their growing family of four. They initially called us to help with their home remodel.
The initial agreement didn't include a master bath with their Hillsboro bathroom remodel. Initially they weren't interested in touching it. However, after they saw the work we did on the rest of the house, Christa felt it would be a waste not to top the project off with a beautiful new master bathroom.
Christa had a very particular vision. She appreciated picking out her own colors and materials. Our Hillsboro bathroom remodel contractors worked with her creative choices to create the master bathroom of her dreams.
AFTER
To give Christa the bathroom she wanted, we needed to make more space. To open up the room for a larger corner shower and vanity sink, we moved the toilet so that it was tucked behind the shower. Rearranging the room like this gave us 18 inches of extra space.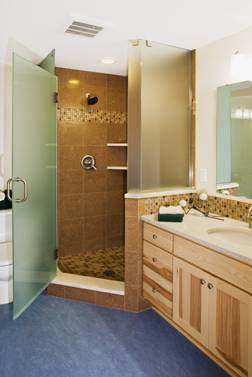 We lined Christa's expanded corner shower with decorative glass and porcelain tiling in sandy hues. For extra storage space, we used some of the lighter-colored quartz from the countertop to add two corner shelves.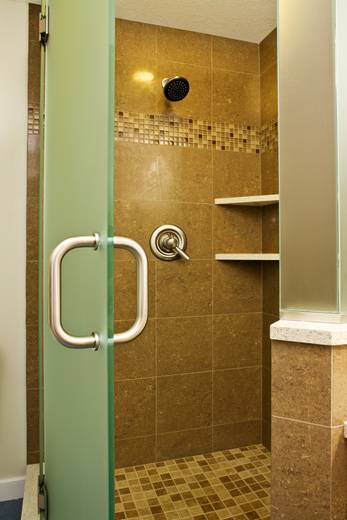 We installed plenty of slide-out cabinets under the counter, and countertop receptacles for Christa and Joseph to charge their electric toothbrushes. To add some extra storage space, we added a set of wood cabinets on the countertop.
The countertop is made using eco-friendly remnant quartz. We installed an undermount sink to make it easy for the family to clean.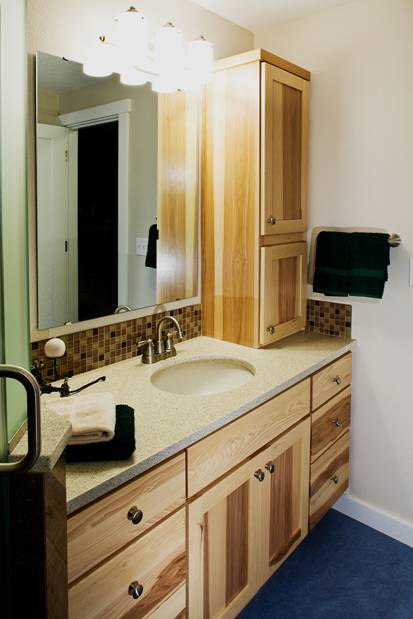 RESULTS
Christa was thrilled with our execution of her design. She liked the look of the wood, quartz, and glass tiling, and appreciated the translucent shower door. She loved the extra space to move around. In comparison to the original space, she found her remodeled Hillsboro bathroom to be luxurious, especially the shower.
Thinking back to her original plan to leave the master bathroom as is, Christa was glad that she had changed her mind. Her forever home just wouldn't be complete without a bathroom remodel.