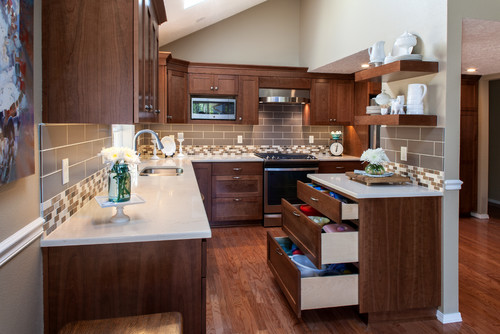 25 Feb

Aging in Place: Kitchen Design

According to the U.S. Census Bureau, by the year 2030, 1 in 5 people will be of retirement age.  

If you're like many, that statistic might cause you to consider how your living situation will change in the coming years. A recent report from AARP found that 87% of folks over the age of 65 want to age in place – that is, stay in the home they raised their families and are most comfortable in. 

Cornerstone Builders are Aging-in-Place Specialists, certified by NAHB, the National Association of Home Builders. Learn more about this certification and how we approach aging in place using Universal Design. Universal Design is a term used to identify products and environments designed to be used by people of all ages and abilities without the need for adaptation or specialized design.  

Because the kitchen is the area where most accidents occur, taking certain care to design for users with unique needs is an important process. The following are a few options to consider.
Favor Drawers Over Doors
Pull-out drawers allow you to see everything at a glance without having to shuffle items around. Drawers allow for easy grabbing and can alleviate neck and back strain. Heavy appliances like mixers, blenders, and crock pots can be placed in drawers as well, while reaping the same benefits. Utilizing soft-close drawers with gliders can aid in maneuverability.
Cornerstone Project: 153rd Kitchen Remodel
Update Faucets and Door Handles
Older faucets with hot and cold knobs can be difficult for aging joints to manage. Installing modern components – even hands-free faucets – can be a game-changer. Outdated door knobs also present a challenge for folks with mobility issues. Updating to loop or D-style handles and drawer pulls make grasping and opening much easier.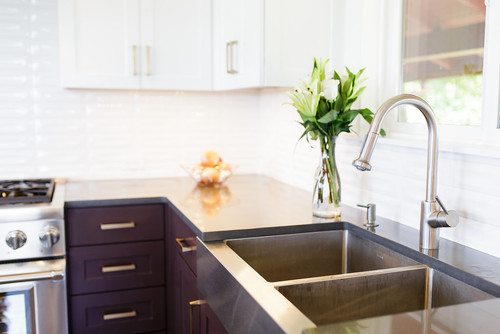 Cornerstone Project: Hergert Kitchen Remodel
Focus on Counters and Shelving
Adjusting counter heights to NAHB standards will ensure your kitchen will be usable for years to come. Relocating cabinets from above the stove will help prevent burns, spills, bumps, and bruises associated with reaching this space. Additionally, open shelving allows for easy access to frequently used items while adding a modern aesthetic to your kitchen design.
Cornerstone Project: Forest Grove Kitchen Remodel
Even if you're still a bit far from retirement age, now may be the perfect time to make these modifications. While the cost of a renovation may be a factor, when weighing it against the expense of a long-term care facility, chances are the money you'll save in renovation could be quite substantial. Pair this with the peace of mind you'll find staying in a home you've raised your own family in, the benefits generally far outweigh the costs. Keep in mind too, the modifications you make now will add equity to your home, further increasing your financial security.
Are you ready to take that next step? 
Contact us today at (503) 671-9538 for a free consultation and to speak with our aging in place specialists. We look forward to hearing from you to discuss how we can help you meet your long-term living goals!